Kids Read To Lead with NFL Alumni Association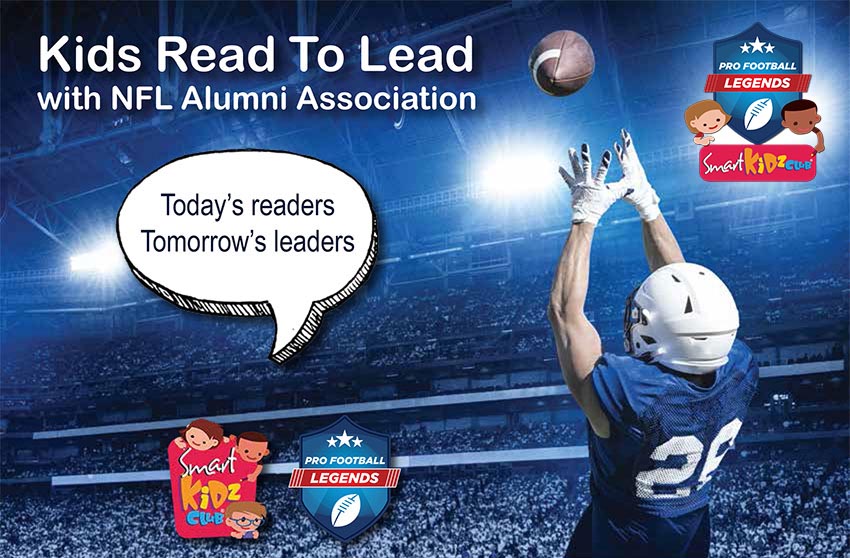 Education is the foundation of our children's success, and every child should have access to building the literacy skills necessary to become the next generation of leaders. When we invest in our children, we invest in our future. I am optimistic that the 'Read To Lead' launch will help bridge learning gaps exacerbated by the pandemic, and make sure children have quick access to the resources they need.
—Senator Chris Coons
Smart Kidz Club has been the official exclusive early education partner of NFL Alumni Association's Caring for Kids initiative from 2020 to 2023. The NFL Alumni Association and Smart Kidz Club launched a national reading and learning app for kids titled Kids Read To Lead with NFL Alumni Association under the Read To Lead campaign, for raising awareness about the importance of reading for all children in the United States of America and providing access to this app for kids and families across the country.
Corporations, philanthropists, and foundations are invited to support and join NFL Alumni Association's national Read To Lead campaign and help children conquer the COVID slide and bridge the digital divide by putting an educational library in their pocket and make a difference in reading and learning outcomes.
Read To Lead App was previously available for download on the App Store and Play Store. Guided by the science of learning & development, it offered a curated library allowing children (2–11 years) easy access to "just right" narrated & illustrated ebooks—in an environment free of ads and animations. The app consisted of Smart Kidz Club's growing library of original content with a focus on knowledge-based books. All books in the collection were narrated in a human expressive voice and categorized by grade, age, reading level & interest topics. The app also offered in-built engagement through rewards, badges and competitive challenges to keep kids motivated to read. Offline access kept kids safe and maximized reach. The app is a comprehensive educational tool encouraging young children to discover the world and develop strong literacy skills to keep learning from home: Read Along, Play Activities, Quizzes, Flashcards Math Practice, Rewards, Wall of Fame, Leaderboards, and Badges.
Corporate Partnership
Corporations, foundations, or philanthropists were welcomed to partner with NFL Alumni Association's Read To Lead campaign for fundraising events and sponsorship opportunities. Corporations could choose co-branded gift cards with individual access codes for distribution in their local communities with kids and young families and help to make a difference in children's reading and learning outcomes. Contact info[at]smartkidzclub.com for partnership details.