Education-in-a-Box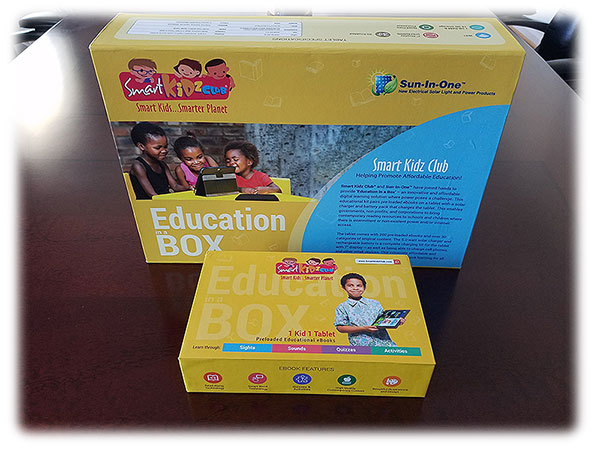 Education should not stop for lack of resources. Education-in-a-Box is an innovative and affordable digital learning solution for places where power and Internet pose a challenge. This solution enables delivery of high quality educational material to the remotest parts of the world where there is no electricity or Internet. This educational kit pairs Smart Kidz Club's digital library of eBooks pre-loaded on a tablet for offline use with an optional solar charger kit. It enables governments, nonprofits, and corporations to bring contemporary reading resources to areas where there is intermittent or non-existent power and/or Internet access.
Advantages of Education-in-a-Box Solution:
The solution is highly scalable as it can be replicated on any number of tablets as per the need and local demand.
Content updates can be managed from one single location.
The solution works with any type of contract award as a turnkey solution or in collaboration with other contracting partners.
The solution has a high potential to generate local employment opportunities.
The app will also measure outcomes and provide reports on progress made.
Smart Kidz Club Content Features & Educational Outcomes:
Read-along technology increases word recognition, higher retention, and correct pronunciation.
Educational resources help in promoting literacy that leads to greater personal growth and enhanced opportunities.
Original & exclusive content
Smart Word technology promotes vocabulary building.
Comprehension quizzes and interactive activities to build comprehension.
Books are easily searchable by category, reading level, and age promoting ease of use.
Beautiful illustrations & design promote greater engagement.
The Education-in-a-Box solution is a custom solution only available for special projects and large orders. For more information, email info[at]smartkidzclub.com.